ENVIRONMENT AND SUSTAINABLE MOBILITY
Renault Trucks is committed to a sustainable reduction in the effects of road transport on the environment.
Although the manufacture of trucks is a clean activity, it is their operation that has the greatest impact on the environment. At Renault Trucks, we are working to reduce these effects throughout the life cycle of the vehicles we produce.
Faced with the challenges of air quality and climate change, Renault Trucks is developing concrete solutions to effectively reduce both pollutant emissions and CO2 emissions. These include optimised diesel engines, fully-electric trucks, natural gas vehicles, biofuels and services promoting eco-efficiency.
MORE ENERGY-EFFICIENT TRUCKS TO PRODUCE LESS CO2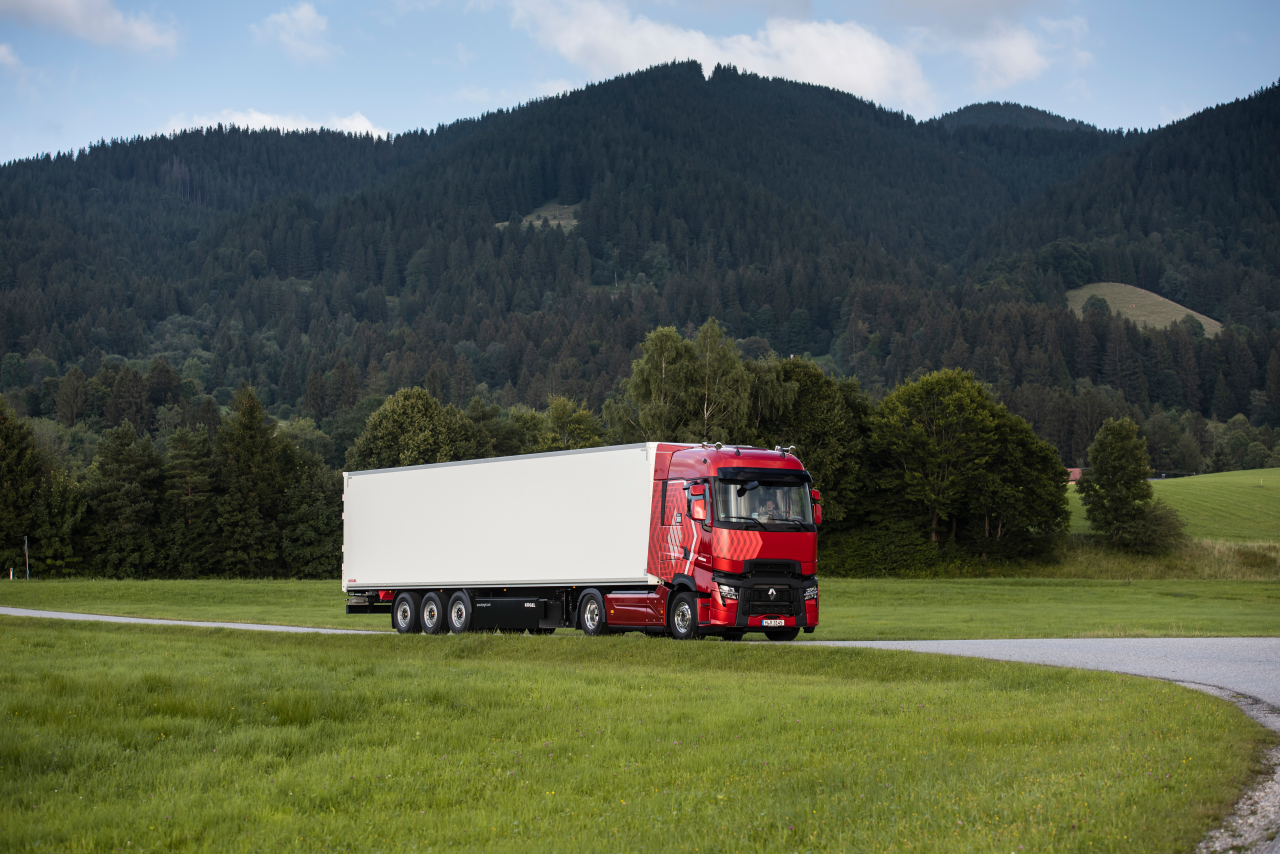 CO2 emissions are directly linked to the use of fossil fuels and contribute to the greenhouse effect, which is an agent of climate change. This is the major challenge facing road freight transport, which must both reduce its fuel consumption – in other words improve energy efficiency to limit carbon emissions – and reduce its use of hydrocarbons to conserve exhaustible resources.
We have considerably reduced the environmental footprint of our vehicles without compromising performance or reliability. In light of climate change issues, Renault Trucks now designs and markets trucks that are increasingly fuel-efficient and emit less CO2.
Each new generation of Renault Trucks vehicles consumes less fuel than the previous generation. In 2022, Renault Trucks offers new generations 11 and 13 litre engines on its T, C and K ranges, as well as new equipment such as turbo compound, which enable its trucks to achieve fuel consumption levels up to 10% lower than those of previous generation vehicles.
To add to these gains, we offer services that optimally configure and equip vehicles, that anticipate the topography of routes to optimise consumption, provide training in eco-driving, measure and analyse the long-term behaviour of trucks and improve performance throughout their lifetime.
THE RIGHT TRANSPORT SOLUTION, IN THE RIGHT PLACE, WITH THE BEST ENERGY
While diesel remains the most suitable fuel for professional long-distance haulage, lowering fuel consumption and using new-generation bio-fuels and synthetic liquid fuels reduces the environmental footprint. For assignments involving shorter distances or in peri-urban areas, compressed natural gas provides a proven solution. For city centres, the ultimate solution lies in zero-emission electric mobility.
WE HAVE OPTED FOR GREEN ENERGIES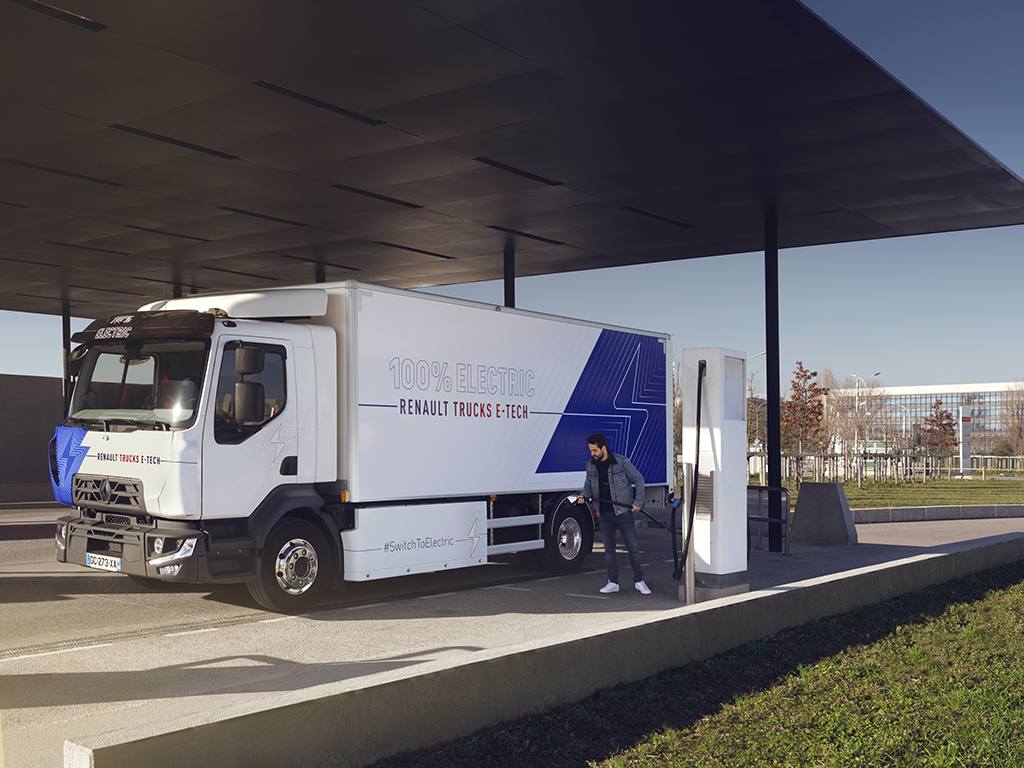 Renault Trucks started investing in electric mobility ten years ago, convinced that it was the answer to the problem of air quality and noise pollution in urban areas. Today, we are the first to mass-produce fully-electric trucks. We market the Renault Trucks E-Tech range, which extends from 3.1 to 26 tons and meets all urban requirements from delivery and distribution of goods to waste collection.
Whatever restrictions are in place in urban areas, the Renault Trucks E-Tech vehicles can carry out their duties without interruption. They are the ideal solution for preserving air quality and reducing congestion, as they allow silent deliveries at off-peak times and at night, producing no CO2 or local pollutant emissions.
We also offer a compressed natural gas engine in its Distribution range. Using biomethane, this engine can reduce CO2 emissions by around 70% compared to a diesel equivalent.
Finally, Renault Trucks supplies engines that are compatible with biodiesel and new-generation biofuels, in particular synthetic paraffinic fuels such as hydrotreated vegetable oils (H.V.O.). Renault Trucks high and medium-powered trucks can be powered with all these fuels. These engines offer the same performance as those powered by diesel.
WE MANUFACTURE WHILE LIMITING OUR IMPACT ON THE ENVIRONMENT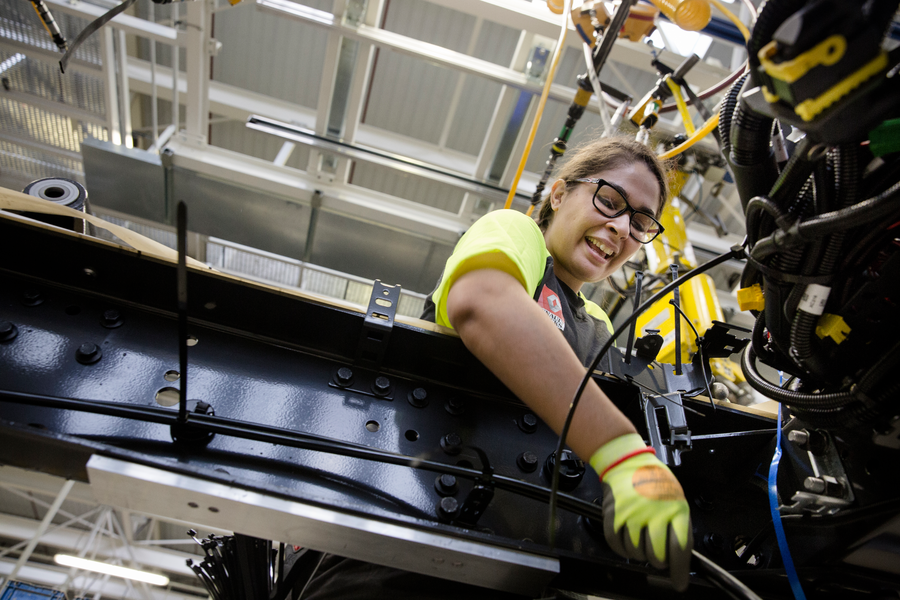 Renault Trucks has an environmental policy based on a rigorous management system involving its distribution network, suppliers and partners. We manufacture our trucks in ISO 14001-certified factories. Production organisation focuses on reducing the consumption of energy, water and raw materials and on reducing and recycling waste.
Our vehicle manufacturing sites are efficient in their use of energy and natural resources. They have introduced measures to reduce wastage and they treat their liquid and gaseous effluents. Production tools and industrial processes have been designed to manufacture vehicles with the least possible waste. The environmental impact is systematically taken into account in each project to upgrade production or renovate facilities. All Renault Trucks sites are supplied with electricity from fully-renewable sources.
WE HAVE PUT THE CIRCULAR ECONOMY INTO PRACTICE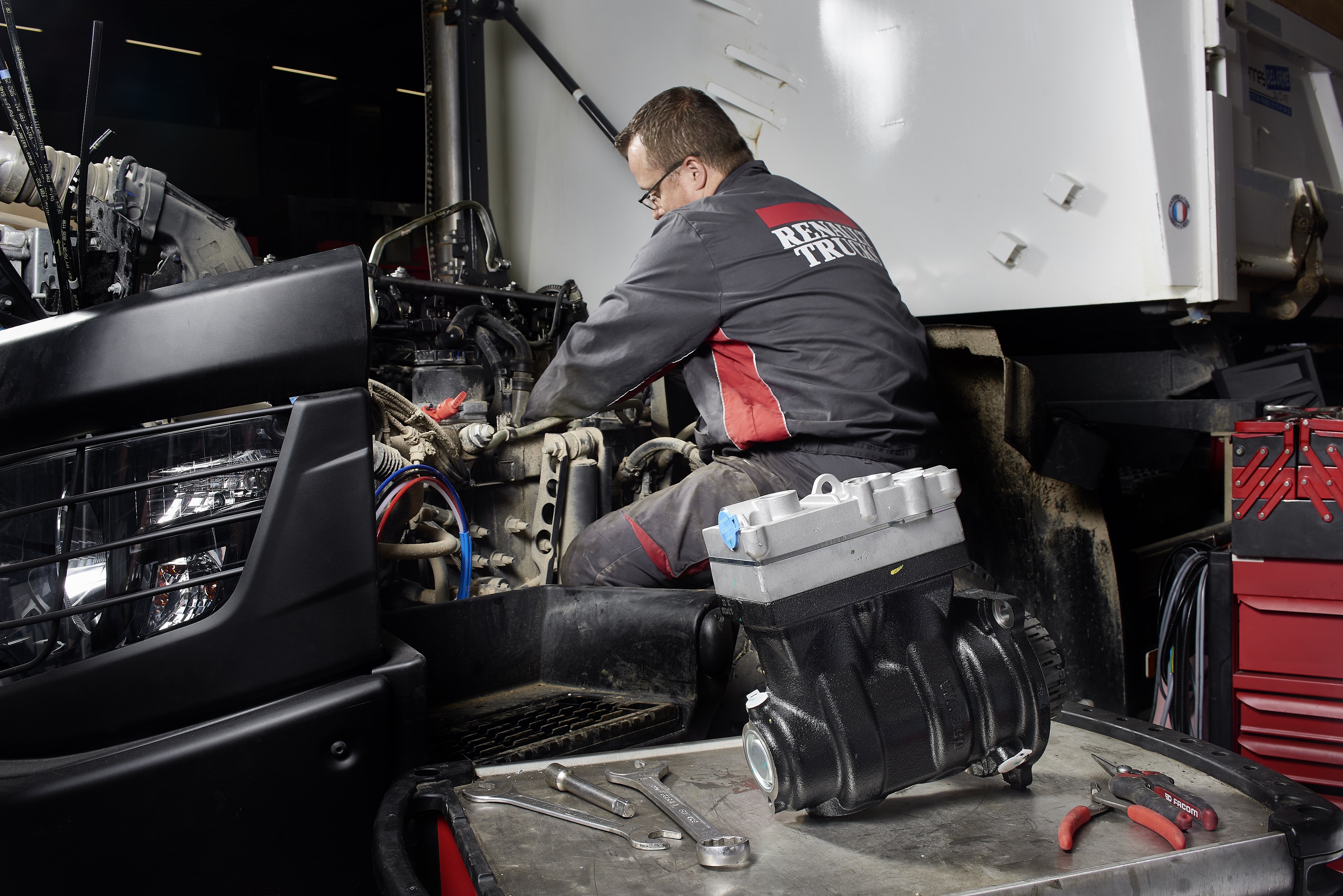 We take end-of-life recycling aspects into account right from the design stage. We select materials on the basis of existing recycling channels and those that do not contain prohibited hazardous substances. Parts are clearly marked with their constituent materials and access to components on vehicles is designed to facilitate their removal. The entire range of Renault Trucks vehicles is over 95% recyclable and over 98% recoverable under the terms of the ISO 22628 standard.
Renault Trucks systematically communicates the references of parts covered by the European REACH regulation on the registration, evaluation, authorisation and restriction of chemicals.
As a producer and distributor of electric trucks, we take into account the end of life of the lithium-ion batteries in our vehicles and strive to re-purpose them prior to final recycling. An electric truck battery is 99% recycled.
We have introduced our own system for recycling and re-using heavy goods vehicle parts. After dismantling the trucks in specialised centers, the referenced parts are offered to customers through the Renault Trucks repair and dealer network. The rest of the dismantled material is recycled. In addition, Renault Trucks offers a range of renovated parts and components for standard exchange, which are produced with a 60% lower environmental impact than for new parts. Finally, Renault Trucks converts and reconditions used vehicles to supply customised vehicles.
CLEANER ENGINES
In Europe, the anti-pollution regulation applying to truck engines has led to a spectacular fall in air pollution caused by road freight transport, despite an increase in traffic. Between 1990, the year of the first Euro 0 standard, and 2014 the year in which Euro VI standards came into force, emissions are down 98% for nitrous oxides(NOx), 95 % for unburned hydrocarbons (HC), 89% for carbon monoxide (CO) and 97 % for particles (PT).
Practically no pollutant emissions
The Euro VI standard imposes an 80% reduction in nitrogen oxides and a 50% reduction in particulate matter as compared to the Euro V standard. It also requires trucks to comply with emissions limits in all phases of operation, and guarantee the reliability of the emissions-control system for 7 years or 700,000 kilometres. To meet these requirements, Renault Trucks uses a combination of several techniques adapted to the size of the engine and its use, including the SCR system, exhaust gas recirculation (EGR), and the diesel particulate filter.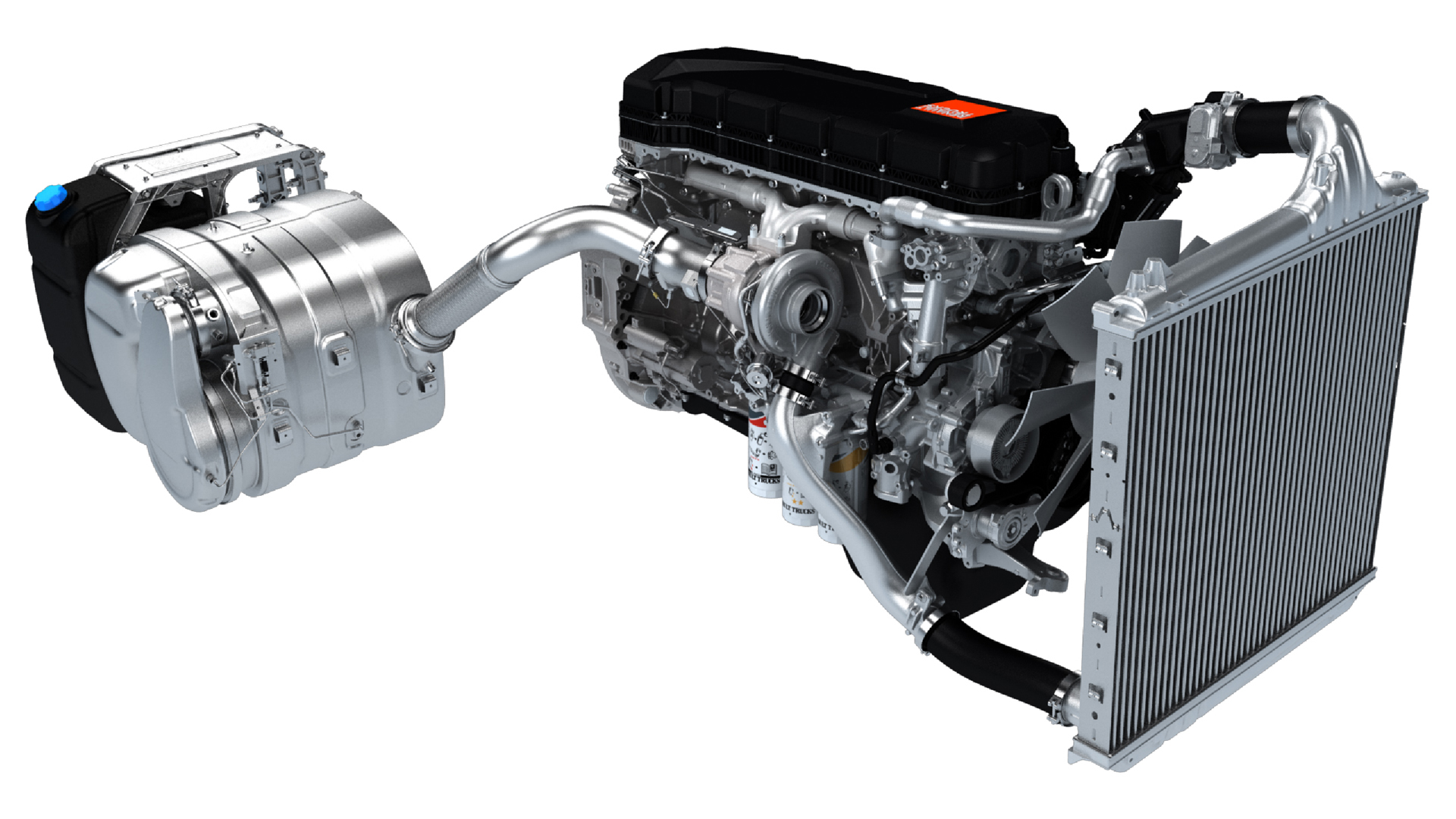 The SCR system
The exhaust gas after-treatment system that is common to all Renault Trucks engines comprises three main elements:
An oxidation catalyst that reduces hydrocarbons (HC) and carbon monoxide (CO) in exhaust gas. It increases the temperature of the gas, which improves the efficiency of the emissions-control.
A filter that traps and eliminates 99% of fine particles. These are transformed into soot and then burned.
Selective catalytic reduction (SCR), which injects a urea solution into the exhaust line, and then converts nitrogen oxides into diatomic nitrogen (N2) - a harmless gas- and water vapour. This system eliminates 95% of NOx.
This series of chemical transformations results in the almost complete elimination of NOx and particulate matter, even the smallest particles.
INCREASINGLY QUIET TRUCKS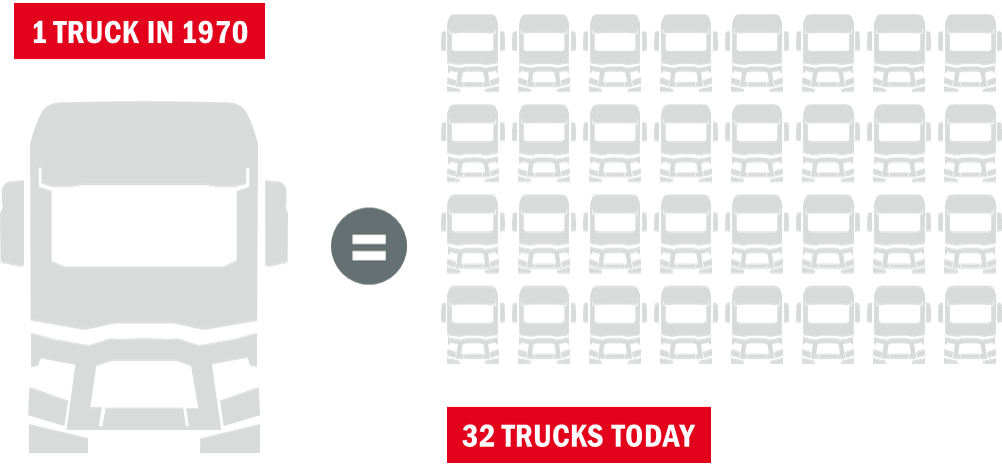 Renault Trucks noise reductionThe acoustic impact of trucks and road haulage has been significantly reduced.
It would take 32 units from the current generation of trucks to produce as much noise as a single one from the 70's
TRUCK LIFE CYCLE ANALYSIS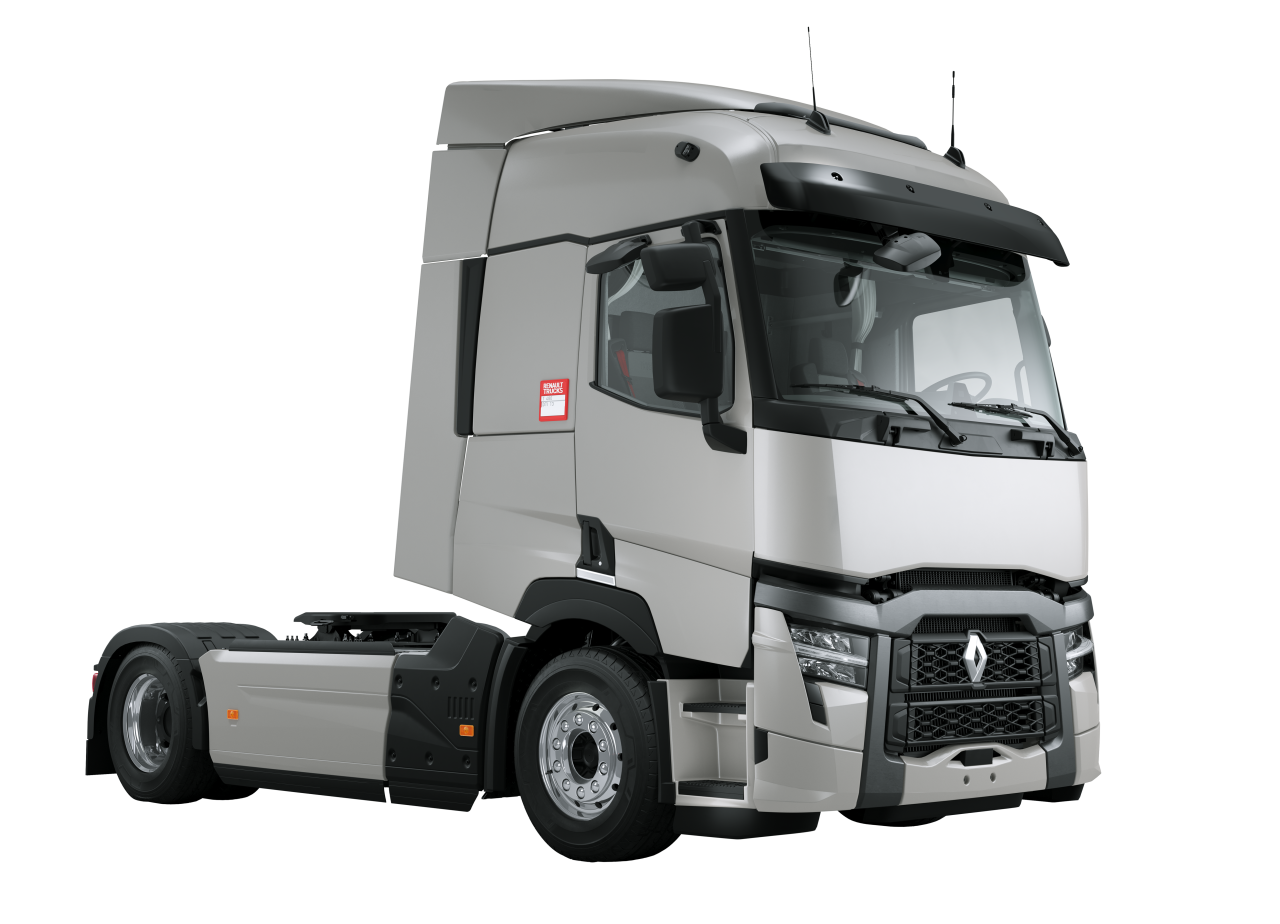 Renault Trucks draws Environmental product information from life cycle analyses (LCAs) carried out on its vehicles. These cover all phases in a truck's life, from the production of raw materials right through to final dismantling and recycling. It provides data concerning the environmental impact of each one of these phases.  Life cycle analysis also makes it possible to determine a vehicle's global warming potential throughout its operational life. This information is available on request at Renault Trucks Environmental Management Department.
Get Renault Trucks models LCAs >
CO2 AND FUEL CONSUMPTION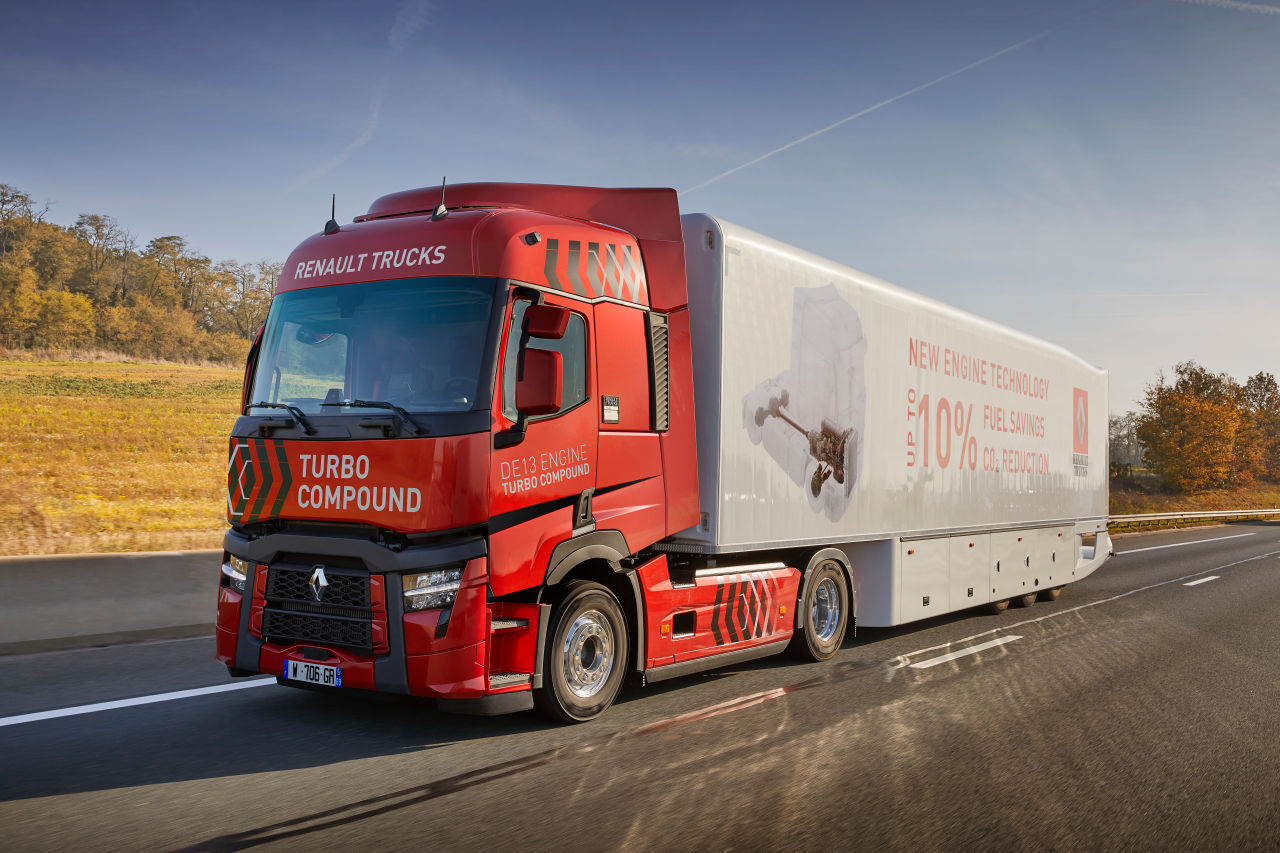 Since 2019, new EU legislation requires all heavy-duty trucks sold in Europe to come with declared fuel consumption and CO2 emissions.
REACH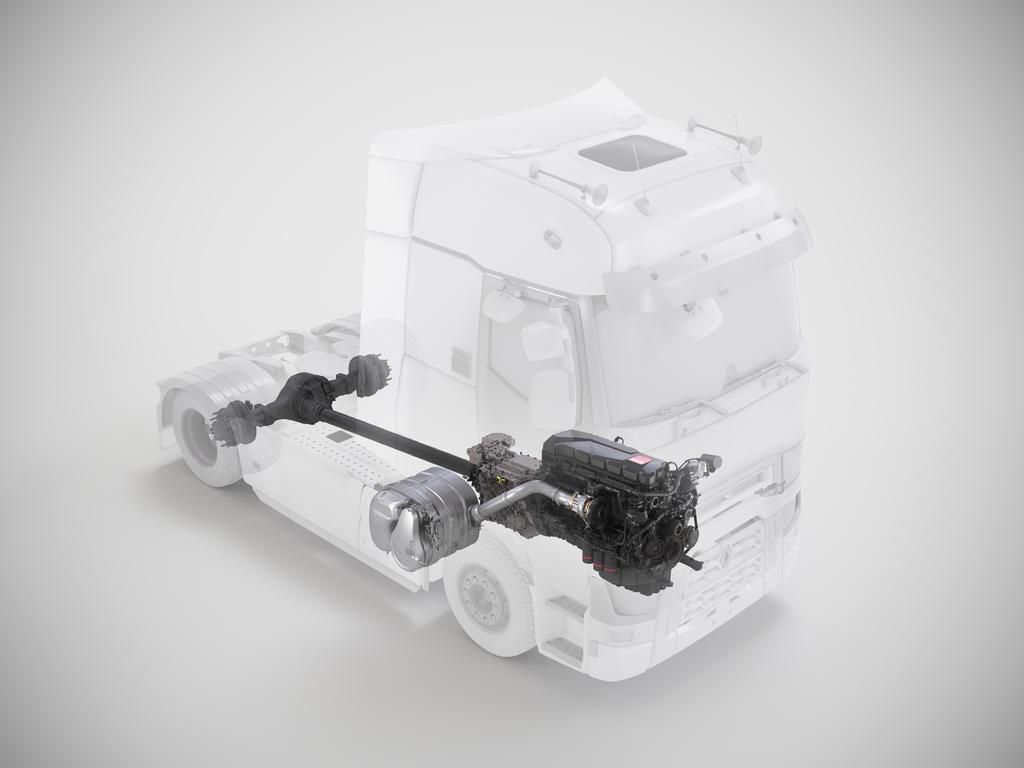 Renault Trucks Reach regulationRenault Trucks follows and supports REACH – an EU regulation aimed at minimizing the risks in the presence of Substances of Very High Concern. REACH requires that all suppliers register, evaluate, gain approval and also limit the use of harmful chemicals in their products. Not only are we a manufacturer of trucks, but also a supplier of spare parts for repair and service – all of which are delivered in protective packaging. REACH forms an important part of our ongoing commitment to responsible manufacturing, handling and use of our products.