7 March 2023
Renault Trucks makes its customers' opinions known at the heart of the company
Have you ever had the feeling you were wasting your breath, that no one is listening? Have you ever given your opinion without receiving any reply to your questions or suggestions? Find out how an application at Renault Trucks brings all the customers into the company and makes their opinions known at the highest level.
We believe that customers who devote some of their precious time to giving their opinion of Renault Trucks, our teams, our products or our services, are generous customers. Their opinion, questions and criticisms give us the chance to improve. Their comments enable us to understand their expectations more clearly and to adapt to their needs. We believe that the way a company responds to customers' questions is as important as the products and services that it supplies.
Priceless gifts 
Thanks to a digital application specifically designed for them, customers can freely give their opinion on their relationship with their Renault Trucks distributor or repairer. They are especially asked to do so when they buy a new or used vehicle, take possession of it, or after a visit to a workshop for maintenance or repairs. "
"There is no such thing as perfection, we know that, and we remain humble. In our relationships with our customers too, it is always possible to do better. So we are pleased when they suggest ways of improvement or offer us their questions. We see it as a gift: they are challenging us and helping us to continually improve", states Cloé Tejtelbaum-Tardy, Customer Satisfaction Director at Renault Trucks and in charge of development of the project.
No barriers between us
The application is accessible via a QR code or address and makes it possible to answer a questionnaire or make comments freely in writing or via a voice message. Everything is done to make it easy for them to give their impressions, questions or complaints. It is also possible to do so anonymously.
To avoid any lack of understanding, each person can write in their own language and the tool translates the opinions automatically. Customers' messages can therefore be easily sent to the Renault Trucks experts who can give a precise answer to each question asked. They are also disseminated at different levels of the company, up to the management which has access to all of the comments. As a result, the customers are in a way part of the teams, as they can express themselves and be heard, without a filter, regularly and instantly.
"With the deployment of this tool, we want to ensure that our customers are present in the company in complete transparency: both problems and compliments are communicated immediately. It is our way of giving the customers a place in the company and looking at our approach through their eyes" says Cloé Tejtelbaum-Tardy.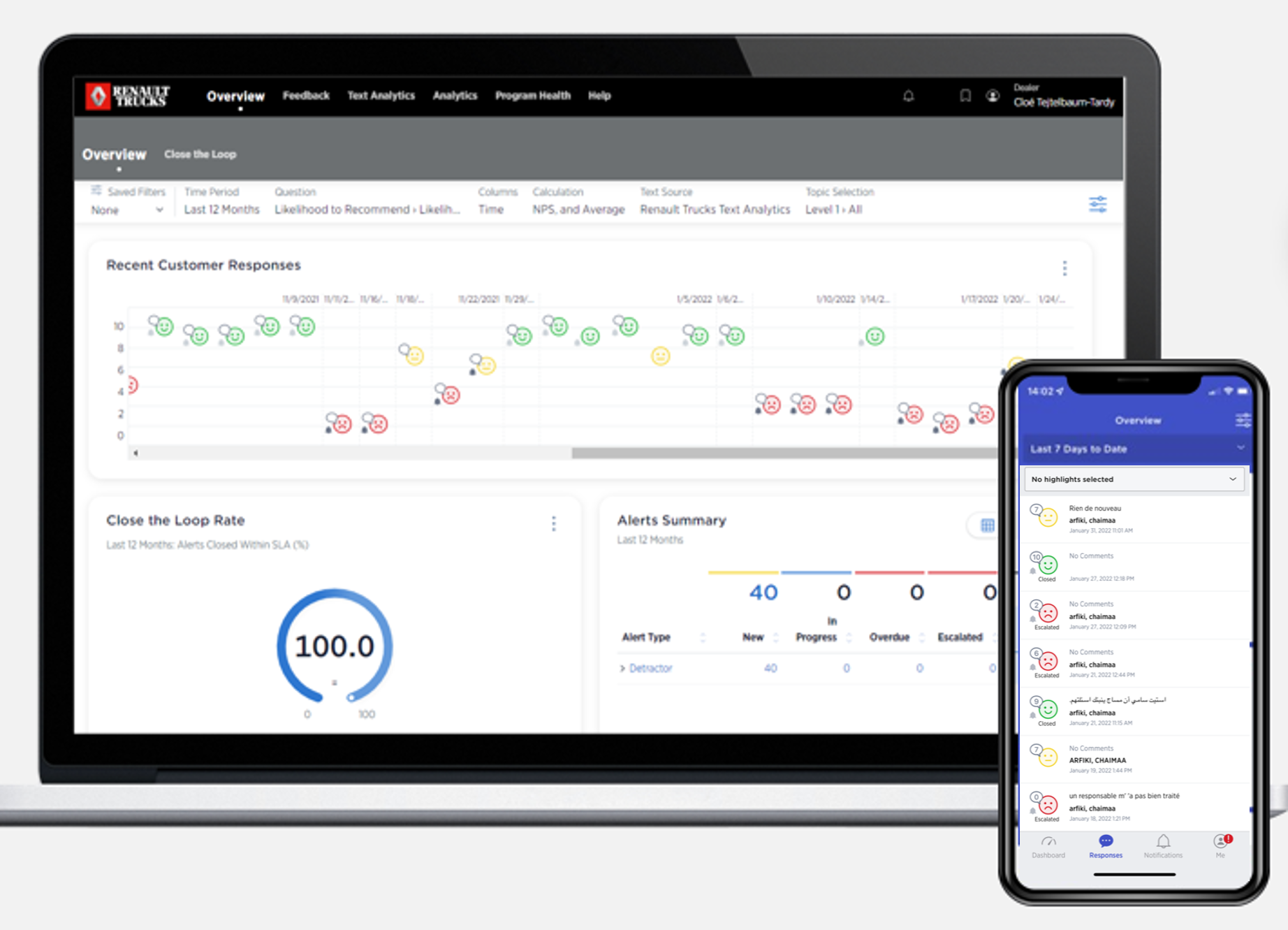 Promise kept
Renault Trucks undertakes to answer all questions, suggestions and complaints within five working days. Each request is allocated trackers that make it possible to keep this promise. Customers receive a reply to their questions using the method they have chosen: email, telephone or directly in the tool if they have opted to remain anonymous.
On average, Renault Trucks currently receives 20 replies to experience feedback questionnaires per day, whereas X countries have deployed the tool. At the end of 2023 it will be available in 38 countries, which corresponds to 80-90% of the Renault Trucks network. "Our approach is twofold," explains Cloé Tejtelbaum-Tardy: "to listen to the opinions of our customers, and above all to give them answers, so we always meet their real needs. We believe there is an essential link between customer experience and value creation for everyone".